Oil Can Harry is an animated villain cat character created by the Terrytoons studio for 20th Century Fox. He is Mighty Mouse's archnemesis, and usually his attention is on Pearl Pureheart, a cute mouse which is Mighty Mouse girlfriend. The cartoon formula sees the hero figthing Oil Can Harry and saving Pearl Pureheart and the day.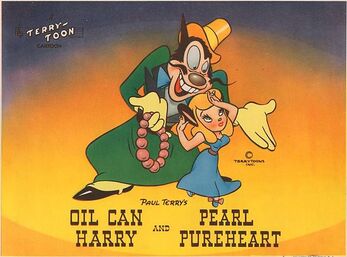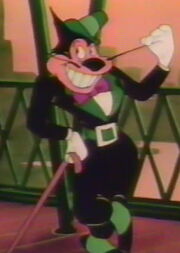 Oil Can Harry didn't start with Mighty Mouse Cartoon Series; he even had to undergo a species change before assuming the later role.
Oil Can Harry's actual first appearance was in The Banker's Daughter, which Terrytoons released on June 25, 1933. He was the most prominent and most memorable character in that film, but he was neither the star nor the hero. The former was Fanny Zilch, the latter was J. Leffingwell Strongheart. Fanny starred in a series of four cartoons, all of which came out in 1933. Four years later, the series was revived, but this time it was acknowledged that Harry was the real star. Two more cartoons were made, both in 1937.
The Oil Can Harry "mellerdramas" were directed by either Paul Terry or Frank Moser, his partner in the studio's early days. Nobody remembers who did the characters' voices, but the style of delivery certainly was memorable — practically all of the dialog was sung, rather than spoken.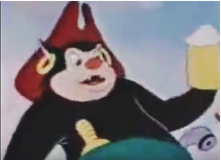 Then Harry was forgotten, and with him, the idea of doing cartoons in opera style — at least until 1945, when Mighty Mouse and the Pirates kicked off a series of operettas with him as the star. Soon, Oil Can Harry, re-designed as a cat, was back to co-star in them. This time, Tom Morrison (Little Roquefort) did his voice.
Harry's final appearance with Mighty Mouse was in When Mousehood Was in Flower, which came out in 1953. By that time, the entire Terrytoons oeuvre was being rerun endlessly on TV, and Oil Can Harry was part of the mix in both of his forms.
But when television switched to color, the Terrytoons old enough to have been filmed in black and white were dropped from the mix. Harry's appearances with Mighty Mouse, all of which were in color, remained. But the ones where he co-starred with Fanny and Strongheart disappeared.